Miss Daisy Is Crazy | My Weird School #1
#1 in My Weird School Series
Hello! Hola! Hallo! Kon'nichiwa! Bonjour!
Delving into book #1 of the My Weird School series with an almost "Hey, Arnold" vibe by Nickelodeon.
Author: Dan Gutman – Illustrator: Jim Paillot
Miss Daisy Is Crazy, the first in the My Weird School series, was published in 2004 by Harper Trophy – an imprint of HarperCollins Publishers, Inc.
Let's get down to the review!
How Weird Is This School?
Miss Daisy Is Crazy follows already well known characters from previous series by the same creative team: A.J., Emily, Ryan, Michael, and Andrea.
Synopsis:
"Something weird is going on! Miss Daisy, who teaches second grade, doesn;t know how to add or subtract. Not only that, she doesn't know how to read or write either. She is the dumbest teacher in the history of the world!"
In this first installment, Dan Gutman beautifully illustrates the semi-realistic & albeit partially, humorously exaggerated views of many second-graders – their childhood angst of being in school when, like A.J., just want to play football outside.
The one carried throughout this first book I feel sets up the rest of the series, making each character unique, relatable, and consistent.
Miss Daisy, likely an inspiration of the '90's classic Miss Frizzle of The Magic School Bus, pretends to not know anything. Just how did she get the job as an elementary school teacher, then?
Gutman beautifully crafts a plot where the second-grade class is amusingly forced with using "applied knowledge" – using in the real world what you've learned in the classroom.
Like most schools, at the beginning of the year, the teacher will quiz their students on what they remember from their previous school year.
Their teacher, Miss Daisy, sneakily uses the concept of "applied knowledge" to get her students to accomplish this exact task through various scenarios.
If you're looking to get your elementary school aged child to use this concept, then pick up this humorous & relatable book today.
"Dan Gutman has written many weird books for kids. He lives in New Jersey (a very weird place) with his weird wife and two weird children."
Dan graduated from Rutgers University in New Brunswick, New Jersey in 1977 with a degree in psychology. Only a few short years later, he decided the best thing for him was a career change – he became a writer. First, it was writing humorous essays for the Staten Island newspaper and others. Next, it was children's humor magazine, Cracked and Crazy.
After 15 years of writing for various entities and magazines, he once again changed directions – writing fiction for kids.
"For the first time, I felt that I was doing something I was good at, something that was fun, creatively rewarding, and appreciated by an audience.

Kids often tell me that my books make them laugh. This is funny to me, because writing humor was what I wanted to do when I got started back in 1980! It just took me a while to figure out the best way to do it."
Today, Mr. Gutman is a SCBWI (Society of Children's Book Writers and Illustrators) member and lives in New York City with his wife, Nina.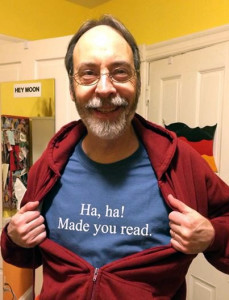 The Missing Pirate Costume (Microfiction)
"The earth has music for those who listen" – William Shakespeare
I wanted to do this flash fiction piece for #FlashFictionFriday but decided halfway through I would turn it into something…a little more.